The legacy of Power is built through our actions.
We call this work our "Circle of Impact" and it refers to the way we execute our vision for diversity in three areas of our business: community, existing and potential contractors, and our own internal organization.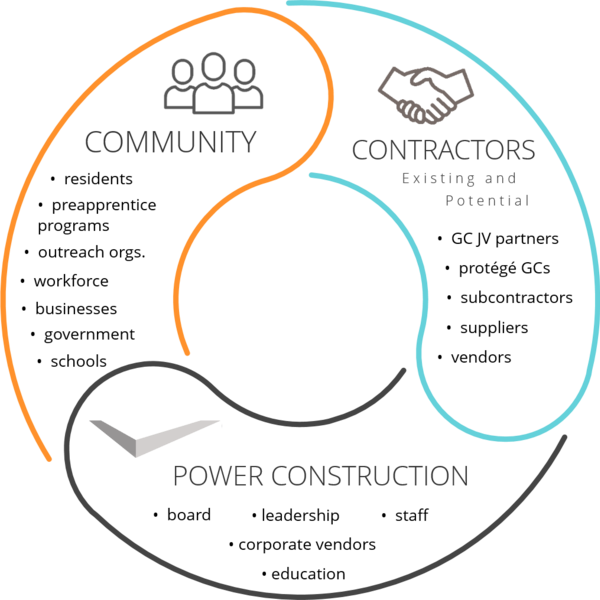 As an influential company in the 21st century, we have the responsibility to inspire progress towards equity and inclusion. Although there's no finish line for this goal, we are proud of the work we've done thus far in providing opportunities for people of all backgrounds.
Explore a few success stories below to learn more about our diversity beliefs in action.
Power has created a culture that is committed to community hiring. And with each new project, our relationship grows and we stretch our efforts to do more.
Power not only encourages its subcontractors to hire from the community but to take them with them to other projects. They also promote sponsorship among their subcontractors and historically have kept those community residents that have performed well for them.
Power took a chance on NHS as we were and still are a startup firm. That trust alone has increased our confidence, and helped structure our capabilities in a more organized way. Trusting in each other's talents makes a great partnership!
Since starting my employment at Power Construction, things in my life have been going in a better direction. I was welcomed with open arms by my colleagues. I've had the opportunity to do things that I only heard about before.
The application and interview process was easy to navigate. The level of communication from Power staff was very sufficient during this process. I am excited, grateful, and proud to be working for Power.
Power opens the opportunity for those that want and can handle the work. And they are involved in other areas to help minorities, such as promoting the max limit on MBE's before graduating out and also with financial institutions to promote funding for small MWBE companies.
Power has helped build solutions to the industry's need for a more diverse workforce. Their approach has not been one of tolerance, but rather one of empowerment. They recognize that our trainees often need support from Revolution Workshop far beyond hands-on technical training, including: housing assistance, licensing support, and financial literacy training.
Power Construction has created the opportunity for the minority construction community to enhance their business practices and opportunities in private and public projects, assisting in the sustainability and growth of these members and companies.
Power has become a great support in my goal setting and is making sure that resources are available to allow me to reach them. My experience with Power has been amazing. From the mentoring, the company values, to the tools they have made readily available for me to grow and learn more about my trade and the construction industry, I could not have picked a better company to work for.