Back to top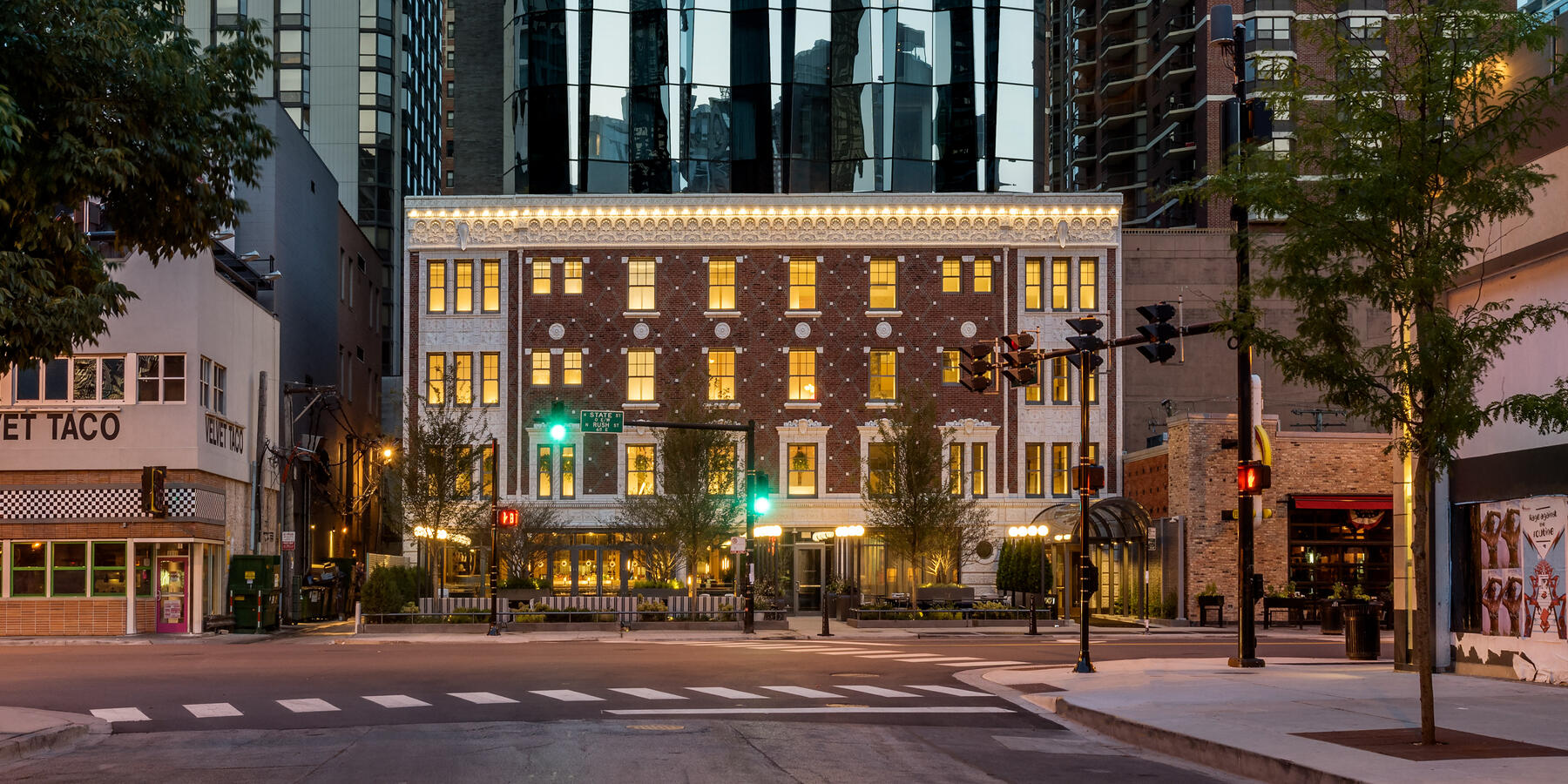 Chicago is a city that fervently believes in hot dogs with relish and mustard, earning your winter parking spot, and holding on tight to the history that got us here.
The Windy City is famous for many things but, as builders, we find architecture to be the most exciting. It makes us proud that people come from all over the world to admire the stunning buildings that have made our skyline iconic.
Some of these buildings are a century and a half old. So it's no surprise that these structures often require work to bring them up to modern safety, technology and accessibility standards. Those things are all essential for the businesses and individuals who inhabit these landmarks.
When old buildings have interiors that require total reconstruction, the best case scenario is that the façade can be saved. A façadectomy, the fancy term for saving a façade in place while building behind it and restoring its appearance, is challenging and meticulous work. But if you ask most historic architecture enthusiasts, it's well worth it. Furthermore, in some cases the city offers tax credits for preserving architectural history.
It's important to tread carefully when restoring or renovating historic buildings. They are a part of our cultural heritage and the foundation of our industry. No matter how much the inside may change and modernize over time, the outside should retain the history and character that makes them special.
We've fine tuned several approaches to performing a historic façade restoration. It's not just that every historic building is unique. Each project also has its own budget, timeline, and authenticity requirements that dictate the methods used.
Starting on the Right Foot
Before we dive into the different options, let's talk about some best practices that will set you up for success no matter which method you choose.
The old adage, "Cut once, measure twice" applies even when you're working on a large scale. The best historic façade restoration always starts with a thorough inspection process. While you may have one particular method in mind, what you discover through inspecting could dictate what solution will work best.
Inspection Process:
Start by studying any and all original building documentation you can get your hands on. It may be available from your local historical society or you may have to track down the original builders.
Next is a visual assessment with as much close-up inspection as possible. Use various methods such as scaffolding, laser scanning, high-res drone footage, and close-up 'sounding' (tapping the masonry with a mallet or hammer) to get as much info as you can.
The first two methods are important but you'll get the most insight from invasive investigation. Your team will make inspection openings at crucial locations to try to identify hidden conditions and support structures.
While this may seem exhaustive, doing this work upfront helps you to choose the best restoration method from the get-go.
I always advise an invasive investigation of the façade - before construction begins. The time and financial investment in this step pays off in the end by bringing to light hidden conditions such as deteriorating back-up masonry and verifies the stability of the structure ultimately saving significant time and money over the course of the restoration.
1. Remove and Rebuild
This first approach is just what it sounds like - removing the materials of a historic façade and painstakingly rebuilding it. However, today's rebuild process is a lot different from the methods that would have been used the first time around, possibly over a hundred years ago.
Going this route allows for the incorporation of modern building practices including full insulation, new foundation, proper air and vapor barrier, internal water management system, and corrosion-resistant supports. But, of course, all that modern work is tucked away behind an authentic façade.
Here's how it works:
Façades that use terra cotta require a complex process to determine the strength of each piece and get exact-match replacements for damaged pieces.
Each piece that's removed is cataloged and stored off-site, and damaged pieces are repaired.
The façade is rebuilt with a combination of original, repaired and new materials using the laser scan to ensure it's identical to the original façade.
Budget
As you might guess based on the meticulous nature of this approach, removal and rebuilding tends to be the most expensive option. It's worth noting that there are only two terra cotta manufacturers in the US, making the process costly and time consuming.
Here's a pro tip: faux materials, such as Glass-Fiber-Reinforced-Concrete (GFRC), can be substituted for unsalvageable terra cotta in some cases, or to recreate entire lost façade elements like ornate terra cotta cornices removed decades ago. When that's possible, you might be able to save a considerable amount of time and money using this approach.
Authenticity
While it's entirely possible to create a historically accurate look using this approach, it's not as authentic as some of the other approaches. Because of that, there is the potential for delays in official landmark approval.
Timeline
The timeline of this method hinges on materials. For example, if three sides of a building are demolished, but only the front façade is being restored, plenty of donor brick can be available. This would go a long way in expediting the schedule.
On the other hand, getting exact match replacements can be an extremely lengthy process that could last many months. There's a good reason for it though. Back in the early twentieth century, unique colors were created using heavy metals like cobalt. Given that heavy metals can no longer be used, terra cotta manufacturers must find different ways of creating the precise color.
The saving grace of this approach is the logistical and safety ease you get by not having a free-standing wall on-site that requires a supplemental support system as described in the other approaches below. This means you can more easily fast-track other areas of your build schedule.
Remove and Rebuild in Action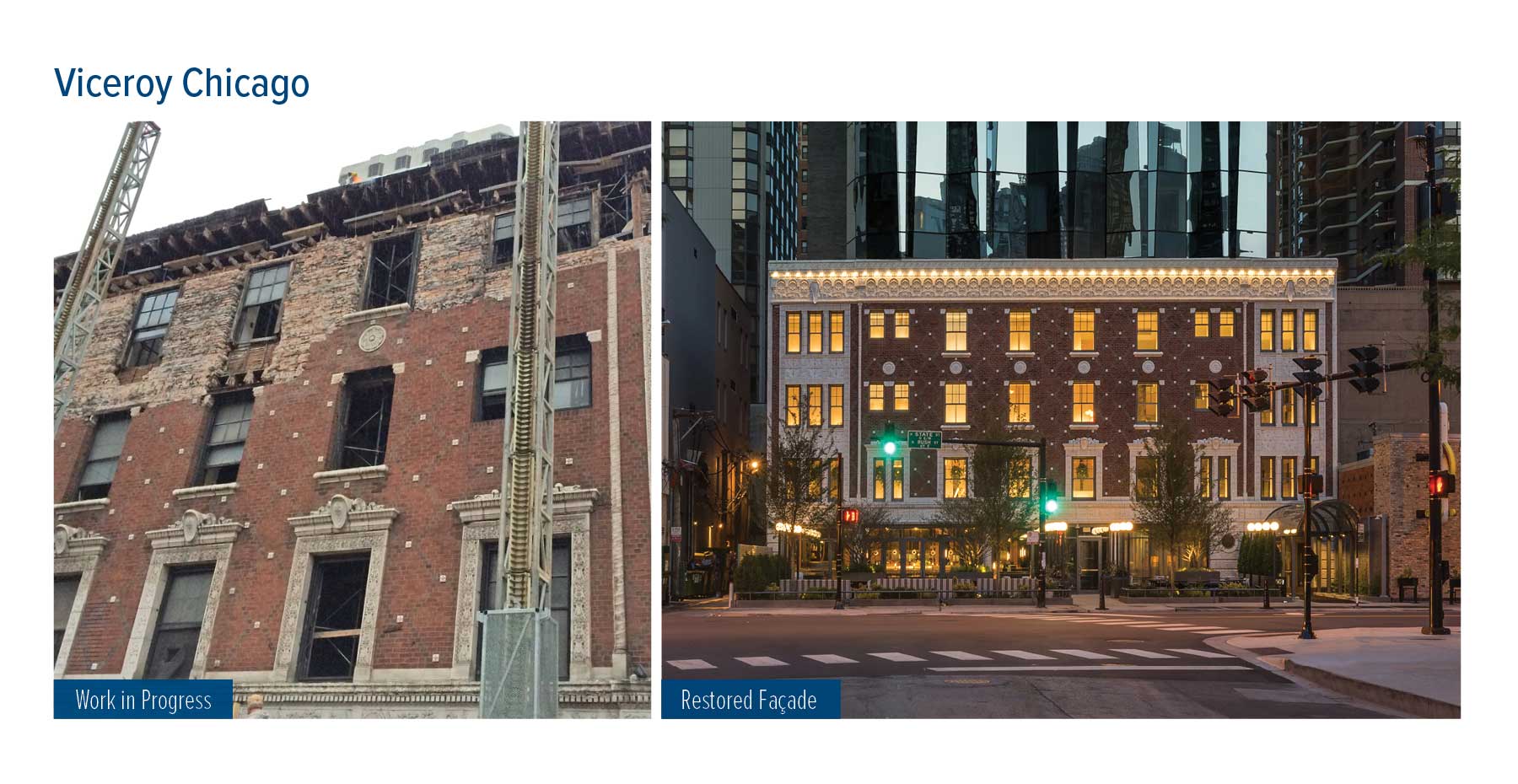 At Chicago's Viceroy Hotel, approximately 80% of the 1920s terra cotta pieces were salvaged and restored for rebuilding. Replicas were remade from concrete molds and blended into the original façade.
The terra cotta pieces were removed, cataloged, preserved and reinstalled to combine the traditional, historic façade with a modern glass curtainwall system. This is an excellent example of how new can meet old in a way that respects the historic appearance of a landmark building.
2. Shipping Container Support
This unique approach is anything but traditional, but it's quite effective and relies on a cost-effective and readily available material to get the job done: shipping containers.
To be successful, builders must be intimately familiar with the site's existing foundation. This is important in determining if the foundation requires additional structures to support the added weight of the shipping containers. It's also necessary to learn if the neighboring buildings have basements or sidewalk vaults.
Here's how it works: 
The lower containers are filled with stones to resist overturning.
Steel bracing is welded to the container, penetrating the façade, and pinching the front and back like a sandwich, holding it in place during the restoration.
Budget
Using shipping containers makes this approach one of the most cost efficient on the list. However, that assumes that no additional foundational support is needed. If it turns out that more temporary foundational support is required, then it could become quite expensive in the long run. 
Authenticity
Since this approach keeps the original façade in place and intact, it is more authentic than the remove and rebuild approach. However, there is some inherent risk since the support system requires penetration of the façade. 
Timeline
However, opting for this method also means there may be unforeseen conditions that slow things down, such as discovering the deterioration of foundations or back-up masonry concealed within the wall, which can impact the schedule and cost. 
You'll also want to consider that going this route can introduce complex exterior logistics. Typically, you'll lose use of the sidewalk, which can be particularly challenging in pedestrian-heavy areas or walkways that are close to public transit.
Shipping Container Support in Action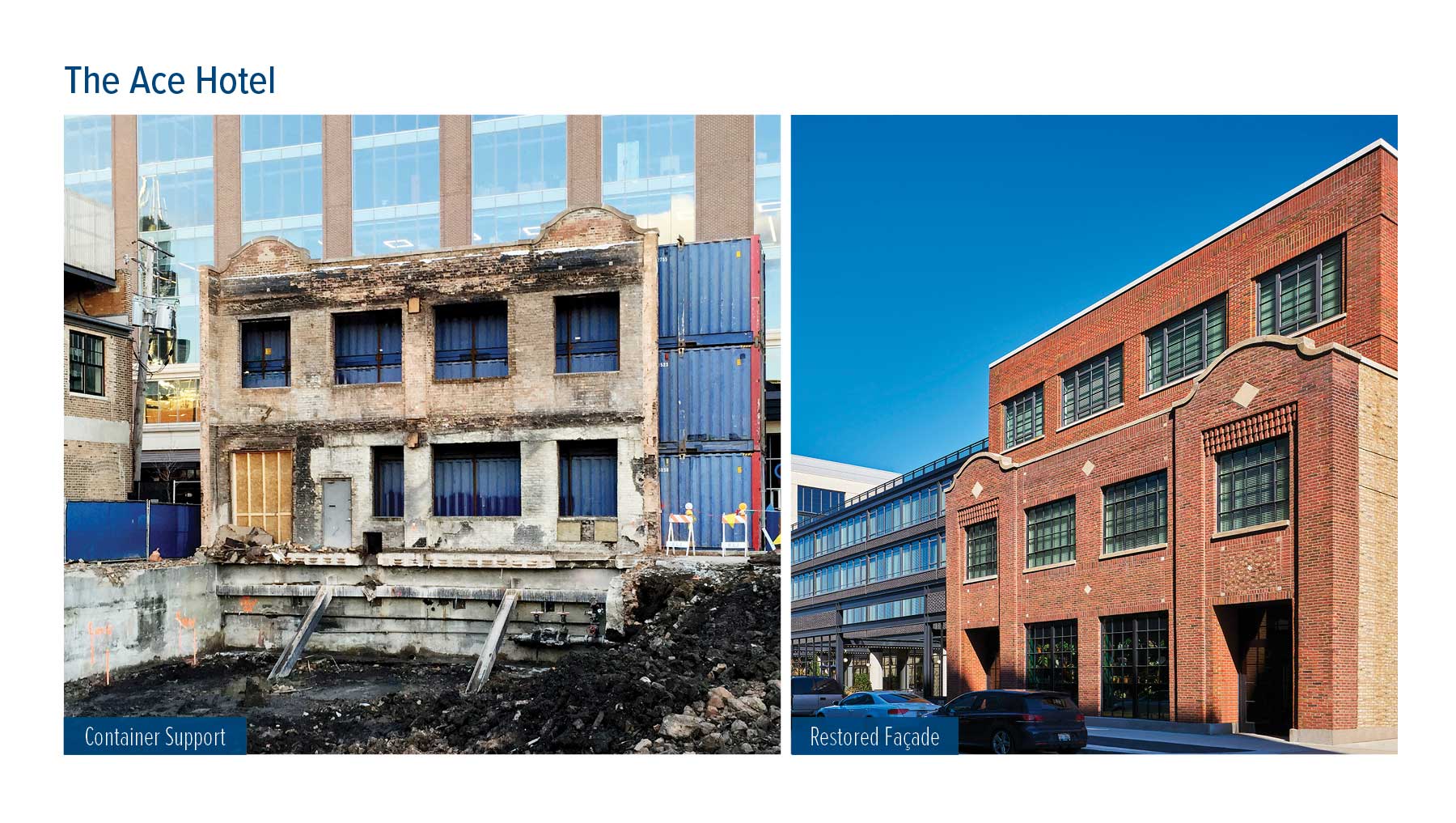 The container support approach was used on the Ace Hotel in Chicago's hip Fulton Market neighborhood. This early 1900s cheese factory had a two-story historic masonry façade, which was stabilized on-site. 
Working closely with the Chicago Department of Planning and Development's Historic Preservation Division and Chicago Department of Water Management, Power preserved the façade without damaging the 100+ year-old 30" water main located directly adjacent to the façade. 
Through early planning it was determined the shipping containers would be the most economical and schedule efficient solution that met the approval of all departments and the needs of the construction team.
Designing outside-the-box solutions such as using shipping containers to support a building façade is rewarding professionally, especially when it saves our clients time and construction costs.
3. Steel Bracing Support
Similar to the shipping container support approach, this method allows the façade to remain intact during renovation. And instead of containers as support, steel bracing is used to keep the façade stable during renovation. It's ideal for tall, free-standing façades or mid-rise structures that are exposed to high winds.
Here's how it works:
The steel bracing requires its own engineered foundation system to be built first.
The brace is made to fit the building, so it's always custom designed and fabricated.
Steel bracing "hugs" the façade.
Budget 
While there are many pluses to this approach, cost isn't one of them. The method is expensive because steel supports require their own foundations and custom-engineered steel framing. 
Authenticity 
When it comes to historical accuracy, this approach is one of the best on the list as it respects the authenticity of the original structure. For many, this considerable benefit outweighs the potential downsides of schedule, budget and logistical constraints. 
Timeline
There's no beating around the bush here - this approach does come with several challenges that are likely to increase the project timeline. First, the fabrication and erection of the steel supports takes time. However, coordinating procurement with the façade preservation permit can go a long way in expediting things.
Just as with the shipping container support, there's a risk that unforeseen conditions (like a deteriorating foundation or hidden back-up masonry deteriorating inside the wall) can cause delays. 
This approach introduces complex site logistics that must be built into the timeline. It's common to lose the sidewalk during construction and to require access to neighboring properties, increasing coordination time. And, of course, all of this can be particularly challenging when the site is in an area with lots of foot traffic or close proximity to the CTA. 
Steel Bracing Support in Action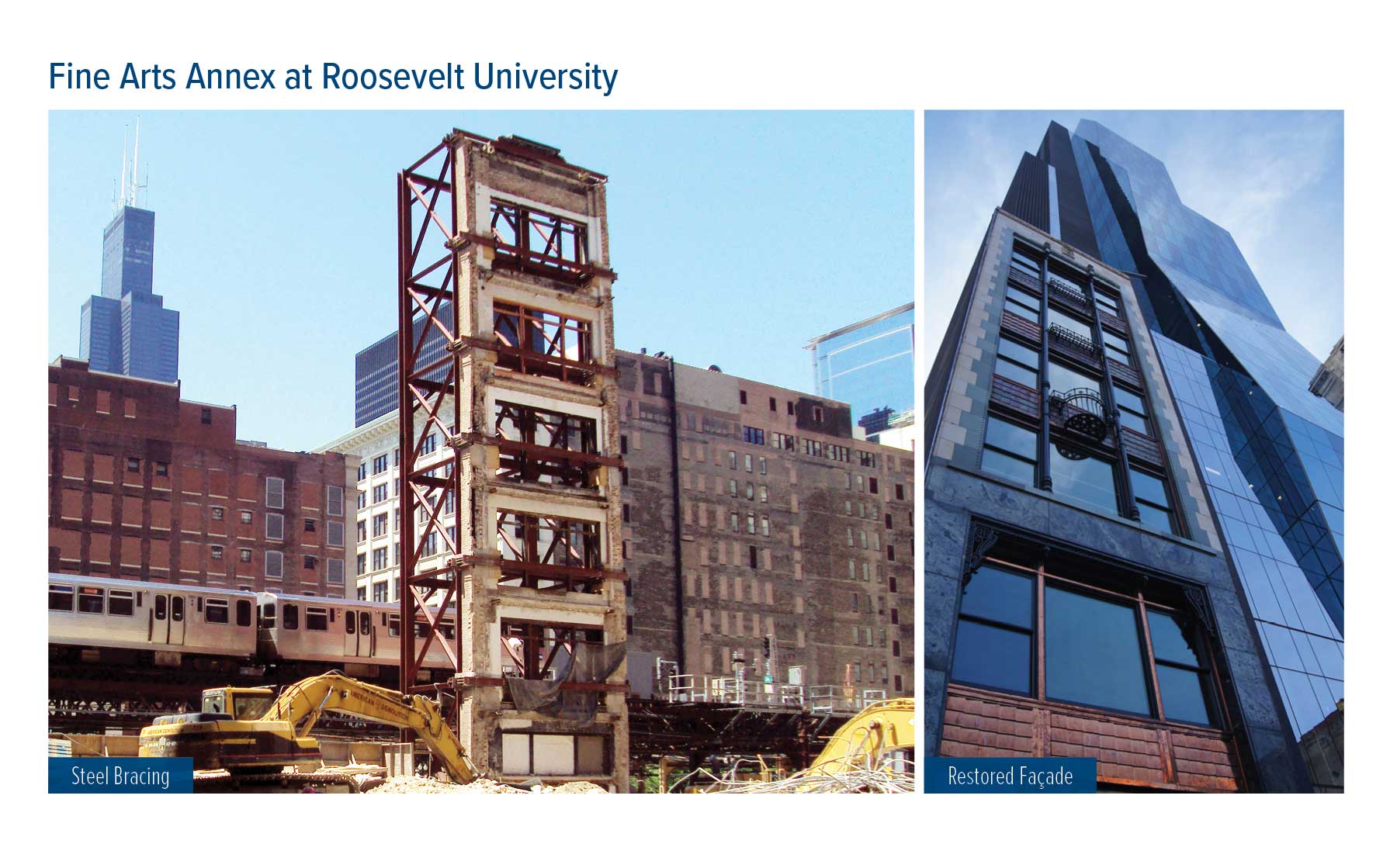 Power was contracted to complete the façade restoration at the Roosevelt University Fine Arts Annex, a registered historical landmark built in 1924.
The project demanded a strict 42-day schedule. Through prefabricating the steel and open book communication, the schedule was cut down to just 15 days. So it's clear that the steel support approach can be used on a tight schedule but it requires all the pieces to fall into place. 
4. Diagonal Bracing Support
This approach is another way to keep the façade in-tact while providing on-site support. Diagonal bracing uses readily available shoring poles and beams with concrete weights as tie downs. This technique is a good fit for shorter, flat, and simpler facades.
Here's how it works:
Diagonal poles are used to brace the façade - imagine the façade and sidewalk as two sides of a triangle with the pole as the hypotenuse.
A "mega" screw extends from the pole, penetrating the facade and attaching to an interior metal plate.
Budget
When you opt for this approach, you save big on designing, engineering, and constructing custom steel framing and costly foundations to support the bracing. Instead, it uses above-ground precast concrete blocks as anchors. In that regard, this method is a winner for both time and budget.
Authenticity
Any approach where the façade remains intact tends to have more authenticity, and this one is no exception. However, it's worth noting that securing the façade usually requires penetration, which always entails some risk.
Timeline
The simplicity of this approach cuts down significantly on the starting timeline. Getting involved early is key as the pole supports are basically a custom scaffold system that must be installed exactly right.
This approach doesn't come without some complex site logistics. Not only do you lose the sidewalk, but there's also the increased risk of unforeseen conditions previously described. And it's good to know upfront that to do this correctly, access to neighboring properties is often needed during the stabilization process.
All of that, plus the challenges that stem from a pedestrian-heavy area or proximity to the CTA, means there can be a good deal of coordination that can impact the timeline.
5. Hybrid Approach
It's natural to want to cherry-pick certain parts of various approaches. Often, that's the best option. With a custom hybrid approach, you blend the remove and rebuild method with any of the four partial bracing methods. 
So which support approach is best? It depends a great deal on the structure type, the unique project, and neighborhood characteristics. As you've seen, there are pros and cons to each one but this is the closest you can get to having the best of all worlds. 
Hybrid Approach in Action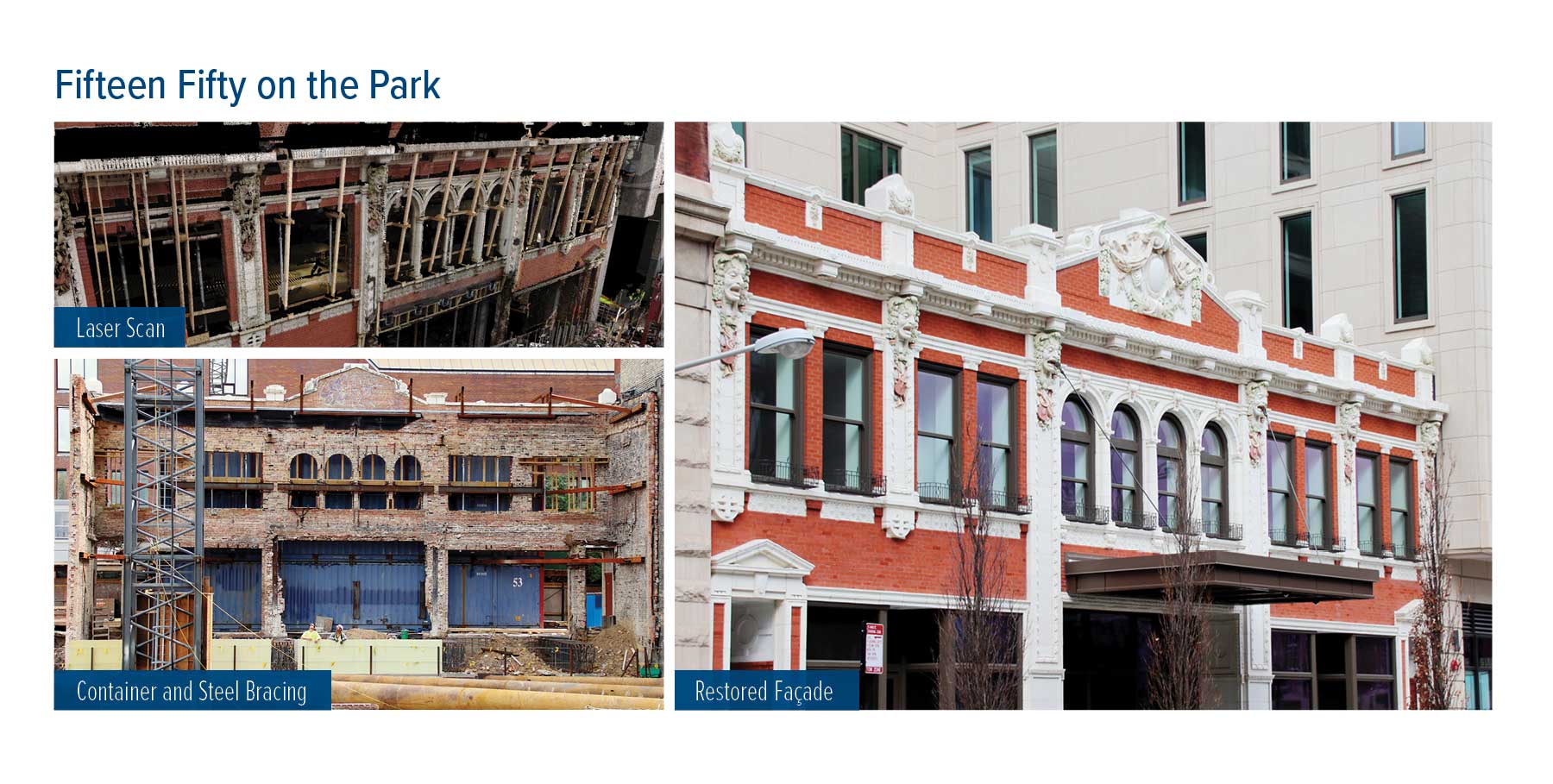 Fifteen Fifty on the Park is a textbook example of a hybrid approach using shipping containers, steel structure arms and remove and rebuild techniques. Originally built in 1916, the Village Art Theater served as a community entertainment hub for over 90 years. After closing its doors in 2007, it was recognized for its elegant terra cotta façade, and received official landmark certification in 2009. 
Not long after, it was slated for redevelopment and façade restoration and turned into Fifteen Fifty on the Park, luxury condos in the desirable Gold Coast neighborhood. Initially, the façade was supported with shipping containers and custom engineered steel framing, which grabbed onto historic walls on 3 sides. As demolition progressed, we learned that part of the interior structure of the walls was simply too deteriorated to salvage. Pivoting, we had to remove much of the terra cotta at portions of the façade while salvaging as many original intact pieces as possible. 
Thankfully, we were able to rely on a laser scan done by our VDC team to ensure 100% accuracy when rebuilding the façade with a combination of the salvaged terra cotta and new replicas. 
It was interesting to learn from our preservation consultant (Henry Frerk Sons) that the original structure was built during the winter with wet mortar that ended up freezing. This was discovered by examining the crystal patterns still visible 104 years later.
Protecting Chicago's Architectural Heritage
In most cases there's no one right answer when choosing the best approach to historic façade restoration. What's needed is a careful cost-benefit analysis that takes into consideration the budget, timeline, authenticity, and the project's unique nature.
Each option comes with its own set of pros and cons. And, of course, each historic restoration in Chicago comes with its own challenges and unforeseen circumstances. The important thing is to make educated decisions about which approach is the right fit and have realistic expectations about the nature of historic preservation construction.
It may sound like a lot of hassle and work, but it's all for a good cause. As builders, we have a special responsibility to protect our great city's rich architectural heritage. We take this role seriously and feel proud that generations of Chicagoans and visitors to come will enjoy the fruits of this meticulous labor.
About the Authors
Bob Van Deven, M.B.A. | Vice President, Power Construction
A 35-year industry veteran and historic specialist Bob's expertise stems from leading several historic restoration projects including the National AIA Award winning Buckingham Fountain Restoration, Fifteen Fifty on the Park, Viceroy Chicago, Ritz-Carlton Residences and the Fine Arts Annex at Roosevelt University.
Todd Gorrell, R.A. | Principal, Klein & Hoffman
Todd has performed numerous investigations, repairs and restorations of building façades over his 32-year career as an architect. He has a particular enthusiasm for rehabilitating and restoring vintage and historic masonry buildings.
Terry McDonald, S.E., P.E. ASSOCIATE PRINCIPAL | Principal, Klein & Hoffman
Terry is a licensed structural engineer with 20 years of design and investigation experience in a wide variety of both new and existing buildings. He has a passion for developing engineered solutions to the unique challenges presented by historic structures.
Footnotes
Viceroy Chicago
Owner: Convexity Properties
Architect: Goettsch
Photo Credits: James Steinkamp Photography
The Ace Hotel
Owner: Sterling Bay
Architect: GREC
Photo Credits: Container bracing - Joe Zekas / Restored façade - Craig Dugan
Fine Arts Annex at Roosevelt University
Owners: Roosevelt University
Architect: Stantec (Formerly VOA)
Photo Credits: J.Jeremiah
Fifteen Fifty on the Park
Owners: CIM Group, Golub & Company
Architect: Solomon, Cordwell Buenz & Associates (SCB)
Photo Credits: Container and steel bracing, Joe Zekas, Restored facade, Joe Zekas, Laser Scan, Keith Jones