Back to top
When Advocate Health Care embarked on building a new patient tower at Christ Medical Center in Oak Lawn, Illinois, the decision was made to employ lean practices and an integrated project delivery approach for the very first time.
A team lead by Cannon Design and Power Construction was then selected to execute the $180 million tower and parking deck projects. A key element of the lean integrated project delivery plan was a broader use of Building Information Modeling (BIM) and prefab manufacturing.
For the first time in the Chicagoland area, prefabricated bathrooms would be built by union trade workers at an off-site facility and trucked to the construction location for installation. With over one hundred bathrooms to be built in this new 350,000 square foot facility, prefabricating the majority of them made sense on a number of levels. The team knew that doing so would help them deliver on important goals of increasing quality, reducing waste, expediting production and improving safe work practices.
According to Al Manshum, Vice President for Facilities and Construction at Advocate Health Care,
It's about delivering on our brand promise and that is the Advocate Experience: safety, quality and service. With a lean process that uses prefab manufacturing, we're really getting all three.
Key to developing this plan was support from everyone involved, including the trades unions, who fully embraced the concept. "We were able to bring a lot of great minds together in a co-located spot and collaborate for many months prior to us building even our very first mock-up unit", said Terry Graber, President and CEO of Power Construction. Josh Odelson, Power's Project Manager, added, "Feedback was solicited through several meetings early in the design process from all associated trade unions. Pull planning of the prefabrication design and production activities was conducted to manage the on-time delivery of the first bathroom pod onsite."

This integrated approach to prefabricated construction resulted in unmatched efficiency and improved quality over traditional stick-built methods. Jason Schneider, Project Manager with Hill Mechanical, reported that "with this project we utilized Building Information Modeling, which basically made the whole project real. You were actually able to take the plumbing right off the model and directly into fabrication, piece by piece by piece, and it was 100 percent accurate."
By using precut materials in a controlled environment, waste was reduced by about 30%. And scheduling efficiencies enabled significant labor savings.
During the design stage, careful consideration was given to strengthening the outer shell of the bathrooms for delivery, ensuring they would not be damaged in transit. Once built off-site, the completed bathrooms were delivered to the construction site and hoisted onto each floor. As each bathroom reached its final destination, all that remained was to hook up the plumbing, electrical, ventilation and hydronic systems.

According to Ron Holz, Superintendent for Power Construction, "With conventional construction, this effort would have taken 110 days in the field to build. Here, we've been able to narrow it down to 64 working days. All with zero lost days, zero injuries, and zero safety issues." Not only did this result in a safer working environment for the construction of the bathroom pods, the off-site construction location eliminated the impact of 70 truck deliveries and temporary parking needs for 25 trade workers on this busy medical campus.

Mr. Holz added, "It's one less room…actually 91 less rooms I have to worry about when it's crunch time. They're already punched out, they're set in place. We have to just hang the door and clean the bathroom."

Ultimately the successful integration of BIM technology and prefab manufacturing hinged on solid teamwork. Advocate's Mr. Manshum concluded,

We look at this element of the overall integrated project delivery model as a big success. It's going to give us the ability to continue to do that on other projects, such as Good Shepherd and Good Samaritan Hospital and, ultimately, beyond bathrooms. We can start stepping into other prefabricated elements for construction as well.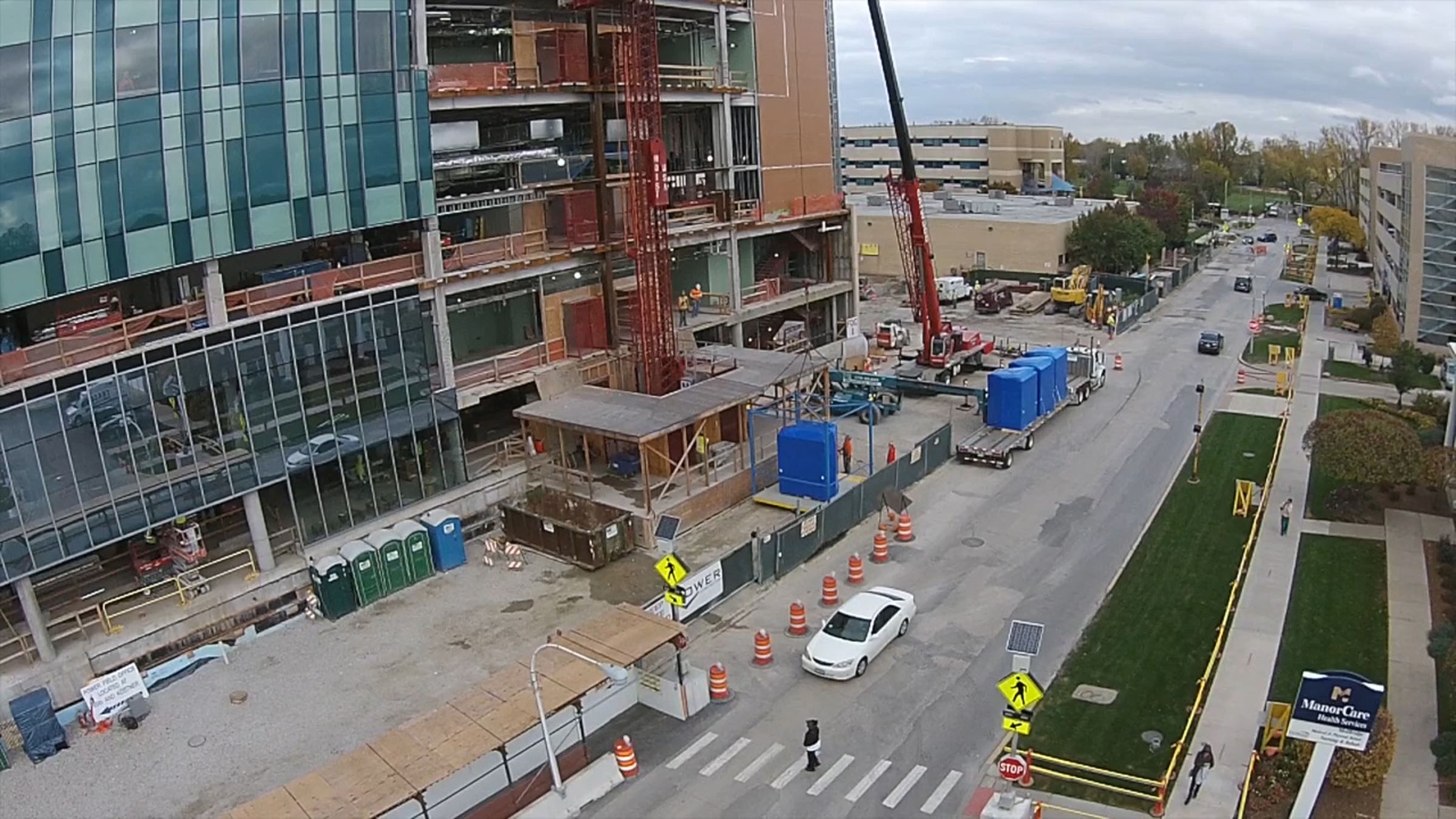 Client:
Advocate Health Care
Design Partners:
Cannon Design, Affiliated Engineers, Inc.,
Magnusson Klemencic Associates
Trade Partners:
Hill Mechanical, Thorne Associates, Gurtz Electric,
Stonhard, Northern Illinois Terrazzo and Tile,
Cain Millwork, Ascher Brothers
Trade Unions:
Chicago & Cook County Building & Construction Trades Council,
The United Association, The International Brotherhood of Electrical Workers,
The International Association of Sheet Metal, Air, Rail and Transportation,
The International Union of Operating Engineers,
The Laborers' International Union of North America,
The United Brotherhood of Carpenters and Joiners of America,
The International Union of Bricklayers and Allied Craftworkers,
The International Union of Painters and Allied Trades